Direitos Autorais/Copyright.
Todo conteúdo aqui postado será escrito os créditos para seus respectivos criadores!!!
All content posted here will be written credits to their respective creators !!!
Observação/Note
Os chars aqui do site MUGEN FIGHTERS INFINITE foram editados todos os portraits no padrão do nosso screenpack, se por acaso você quiser colocar em outro screenpack pode ser que fique desproporcional! CUIDADO! Por isso escolha baixar nosso screenpack.
The chars here from the site MUGEN FIGHTERS INFINITE have been edited all the portraits in the standard of our screenpack, if by chance you want to put in another screenpack might be disproportionate! WATCH OUT! So choose to download our screenpack.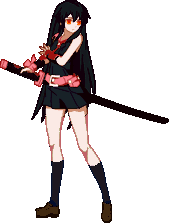 [Info]
name ="AkameGaKill-Akame"
displayname =""
versiondate = 4,25,2015
mugenversion =
author ="AnToR_M"
pal.defaults =1,2,3,4,5,6,7,8,9,10,11,12
Akame é uma dos protagonistas do anime/mangá Akame ga Kill! junto de Tatsumi. Uma assassina treinada desde criança que se juntou à Elite Seven e depois à sub-facção do Exército Revolucionário Night Raid para combater a corrupção do império.
# # # # # # # # # #
Akame is one of the protagonists of the anime/manga Akame ga Kill! along with Tatsumi. A trained assassin since childhood who joined the Elite Seven and later the Night Raid Revolutionary Army sub-faction to fight the empire's corruption.